Trumbull Candidate Spotlight – Sujata Gadkar-Wilcox
By Meg Barone
October 13, 2020

7:57 pm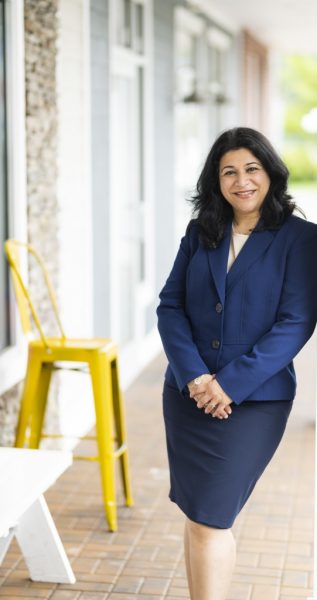 Few people forget the name of Sujata Gadkar-Wilcox once they hear it or have a chance to meet the energetic Democratic candidate for the State Legislature's 123rd District seat, which represents about two-thirds of Trumbull.
Her names are a proud combination of those given to her by her immigrant parents and the one she took when she married her husband, Wynn Gadkar-Wilcox, with whom she has two young daughters.
"Because my name is unique people remember it," said Gadkar-Wilcox, who hopes that name recognition translates into votes, although she also has a great deal of substance behind that recognizable moniker. Gadkar-Wilcox, who is running for state representative for the second time, is a professor of constitutional law at Quinnipiac University, and has a long list of awards and honors to her credit, including a Fulbright-Nehru Academic and Professional Excellence Fellowship, a Carnegie New Leader Award from the Carnegie Council for Ethics in International Affairs, and most recently the Outstanding Faculty Award from the Student Government Association at Quinnipiac University.
Gadkar-Wilcox plans to bring that excellence to Hartford where she will work as an education advocate to improve funding for capital projects and classroom curricula to prepare students for jobs of the future, creating a pool of talent that will attract businesses to the state, particularly those in technology, health, green technology, and environmental sustainability. She will help local business people, ensure the state has the digital infrastructure to support economic prosperity, revitalize the state's economy, restore people's faith in government, and encourage dialogue between those of differing political persuasions.
During her recent TED Talk Gadkar-Wilcox said "politics should include individuals, communities and local organizations working collectively with elected officials to ascertain the best interests of the community." She said democracy is about community dialogue, the importance of having nuanced conversations, and she encourages talking through disagreements to come up with compromise solutions rather than engaging in divisiveness.
"I want to listen to everyone," she said.
That's been a bit of a challenge during the worldwide Covid-19 pandemic. "I used to do coffee in the community. Now we're having Zoom meetings and making phone calls to reach out," she said. Talking to people directly has reminded me that people in Trumbull are very thoughtful, and that is the kind of political engagement we need right now."
Gadkar-Wilcox is concerned that her opponent, four-term Republican incumbent David Rutigliano, received a score of 51% for his legislative report card from the Connecticut Education Association. "I would like to see an education advocate in Hartford. Now that we're in the middle of a pandemic we recognize how vital that support is, including money for retrofitting ventilation systems in schools," Gadkar-Wilcox said.
"I want to reclaim what politics used to be. People cringe when you say the word 'politician,' but it really means 'public servant.' … Politics is important to me and I think we can do better than this," she said of the current hyper-partisanship that has dominated "our public discourse."
"I want our community to be better. I want our politics to be better," Gadkar-Wilcox said.
Paid for by Sujata for Connecticut, Michael Barker, Treasurer. 
Approved by Sujata Gadkar-Wilcox
Call/Text: 203-292-0330 | www.SujataForCT.com