St. Joseph High School Leads by Example Embedding Health and Wellness into Curriculum
By Alex Fischer
September 28, 2021

7:10 pm
In 2021, St. Joseph's High School was named the best school for student athletes among 270 schools statewide. With updated facilities and a newfound interest in overall physical wellbeing, St. Joe's takes pride in their ability to keep their students active in a myriad of different ways.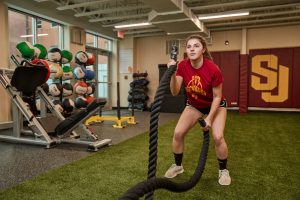 With 88% of the student body participating in one sport or more, fitness is certainly a large element of the student experience at St. Joseph High School. Joining one of the many teams is encouraged, but it isn't the only way to stay active. The administration has gotten creative in its ways to show students the importance of a healthy lifestyle and has made headway in shifting curriculum to involve health-conscious courses.
"We found that this community is naturally athletic, but with the addition of the Health and Wellness curriculum, we've made fitness 'college prep' – students are building habits and knowledge for college and beyond," Director of Marketing and Enrollment Management Jessica Costa said. "Now the students are pushing us for more and more health-focused courses."
To meet this need, the school has taken initiative in putting an emphasis on long-term health as part of the curriculum. Now, students can take courses such as Personal Health and Fitness, Intro to Exercise Science, Intro to Strength and Conditioning, Mindful Restoration, Advanced Strength and Conditioning, Intro to Weightlifting and Nutrition.
"There is an increase in students that are now interested in studying health sciences when they leave St. Joe's," Costa said. "We wanted to make sure we were matching academic and experiential instruction with students' career goals."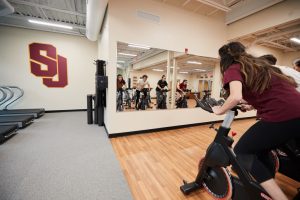 The Cadets are lucky to have Alisha Thresher, the school's full time Health and Wellness Director on campus, as an additional resource. Thresher interacts with students at all grade levels and aims to encourage healthy lifestyles with longevity.
"Our Health and Wellness Department reflects what a student may encounter in their intro courses when attending college in the Health and Wellness career field," Thresher said. "By providing them with early exposure to these courses I believe we are creating better options for success down the road."
Because the community is already very active, the student body has responded positively to the increase in attention to their physical wellbeing and how it contributes to their health overall.
"We recognize the need for students to really learn how to take care of themselves mentally and physically," Thresher said. "I enjoy taking students through the process of creating programming for personal fitness and athletic teams and how we can influence things like nutrition, sleep and mobility to ensure greater outcomes and happier lives."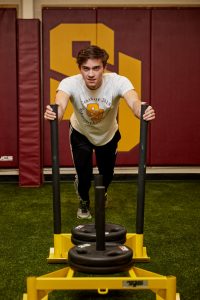 So, while the school's core classes may always stay the same, the addition of new electives is something that changes based on input from the student body. The importance of health and wellness at St. Joseph High School is present both inside classrooms and out on the athletic fields, and through this initiative the school experience is unique and more attractive than ever before.
For more information, visit www.sjcadets.org.